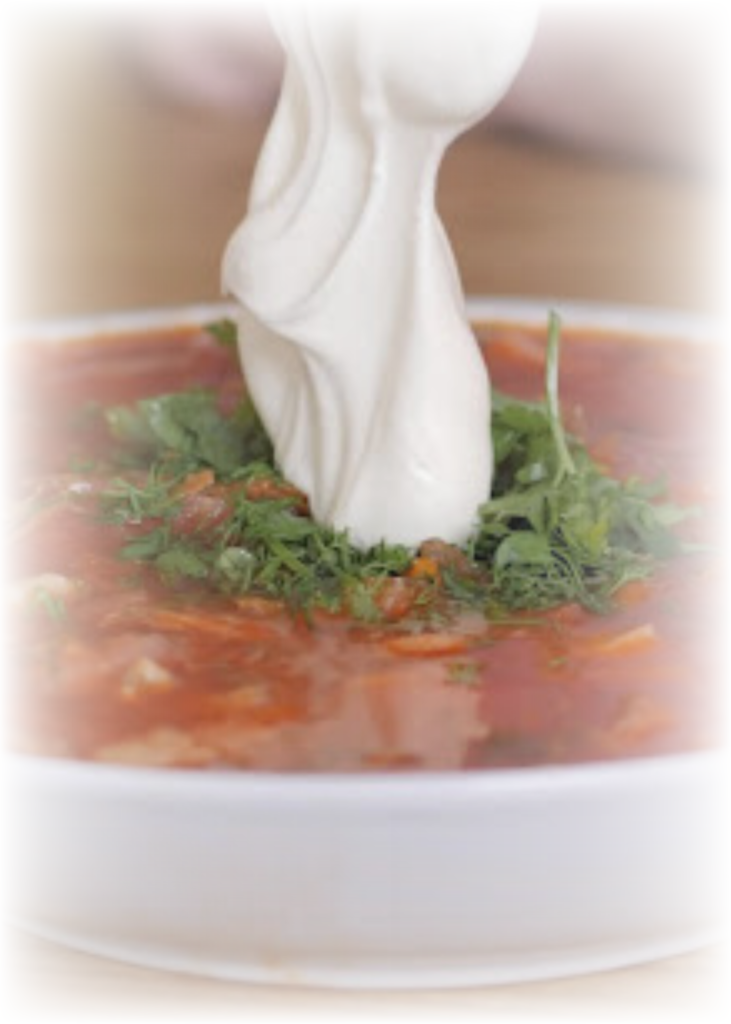 Now I've come to learn over the years that men with mothers, whether good cooks or bad, prefer to keep nostalgic memories of their mother's culinary skills. "Julia Child"1Julia Child, August 1912 to August 2004, author of Mastering the Art of French Cooking, TV celebrity had nothing on these women, even if their claim to fame came out of a box or the prepared section of the supermarket.
Husband #2 was no exception in this department. After being barraged by requests for barley soup like his mom made, muttering a few expletives, I decided to tackle my mother-in-law's Barley Soup…the one that called for a little of this, a little more of that and much less of these other things. Were women from her era deliberately sabotaging us newer and younger wives? It is difficult at the best of times to learn to make new dishes for our families, but darn, if it isn't nearly impossible when their recipes are so vague.
Not being the type to call 'uncle' too quickly, I gathered the recommended ingredients to begin the soup. Sauté onions and freshly chopped garlic in a little olive oil and butter. As my son always says, "Mom thinks butter is its own food group!" Isn't it? Hmmm, it smells yummy.
Next, I add a splash of wine and reduce before adding the stock, cut up carrots, celery, a bay leaf etc. and leave the soup to simmer. Finally, an hour or more before the soup is ready, I add beef and barley.
Now everything looks and smells wonderful, but the problem seems to be the barley. His mother's recipe doesn't provide an exact measurement for the barley, so I begin with a ½ cup…sounds logical to me. A short time later nothing really seems to be happening. So, I add another ½ cup…I mean a large pot of liquid with pretty much nothing in it but a little barley floating around inside?
One final check before "leaving well enough alone" as my friend Gerry is always telling me, and you know what…there just isn't anything substantial in this soup pot; and I know my husband's propensity for food…he's got a big appetite. Just a tad more barley before putting the lid back on and it was complete.
This is when I hear my husband's car pull in the driveway, I head outside to meet him. I'm excited to show him the great job I did today at digging up the front of the house. Earlier today I bought three pretty bushes at the nursery. The store owner told me it would be necessary to dig a fair-sized hole to put each of them in…so I did. But before doing so, I followed his instructions for designing the front garden with a hose, to define the space.
Just as I'm about to question the quizzical look on my husband's face, I have to rush in the house to answer the phone…
It's my sister and her husband. They had just arrived home and listened to my telephone message asking about the correct depth for my new plants. As my sister says hello her husband yells from the background, "how deep are the holes she's already dug for the shrubs?" I ask her to hold on for a minute while I go back outside to check. When I arrive at the front of the house, I find my husband staring at the holes…looking totally confused. Stepping past him and into one of the holes I quickly measure the depth and return to the phone.
"When I stand in the hole it comes up to my knees" I say feeling very proud of my accomplishment". My sister's husband quickly relieves her of the telephone and says "You're kidding right?"
My reply to him is dripping with acid "Well no, I'm not kidding; the guy at the nursery told me I would need to dig a fair-sized hole for these shrubs and I've done just that".
Unable, it appears, not to laugh at my misfortune; my brother-in-law informs me of the necessity of filling most of the dirt back in before the shrubs can go in the ground. "Geez Sandy, the guy didn't mean for you to dig all the way to China…I'm surprised you didn't strike gold"; his shameless laughter being the last thing I hear as I slam the phone down!
Back outside I tramp again, feeling a little demoralized, only to find my husband shaking his head.
"What? Don't you start too; I just did what the guy at the nursery told me to do. How, pray tell, am I supposed to know what a fair-sized hole looks like?"
"Well," says my husband, "I can point to what it doesn't look like"….staring directly into my two-foot hole. "I'm just grateful you didn't hit a water main or a gas line!"
"Oh, stop exaggerating. I didn't dig that deep"…but as I stomp indignantly back to the house, I'm thinking to myself, thank God I gathered up all the garbage I'd found buried under the ground. I'm beginning to think our subdivision was built on an old landfill site?
Before I even reach the front steps of the house, my eldest son comes running out the door with a look of terror on his young face "Mommy! Something on the stove is exploding all over the kitchen." In a panic I tell my son to stay outside where he'll be safe, and my husband and I make a mad dash for the kitchen.
"The sight that greets us could be from a sitcom. My large soup pot is spitting and coughing barley to the far reaches of the stove top and beyond. The lid is bouncing menacingly as if it will erupt any second. I'm convinced my son may carry the scars from this experience the rest of his young life.
My husband seems to have the wherewithal to grab the oven mitts and remove the exploding pot from the burner to the kitchen sink! He no sooner drops the pot in the sink when the bouncing lid finally shoots up in the air, causing both of us to duck under the kitchen table for cover!
"Geez Sam, how much frigging barley did you put in that pot?"
"A bit too much…I'm guessing".
This is my story and I'm sipping it!
1 – Julia Child, August 1912 to August 2004, author of Mastering the Art of French Cooking, TV celebrity